Cast Stone Accessories: Sealer and Fixtures

www.drytreat.com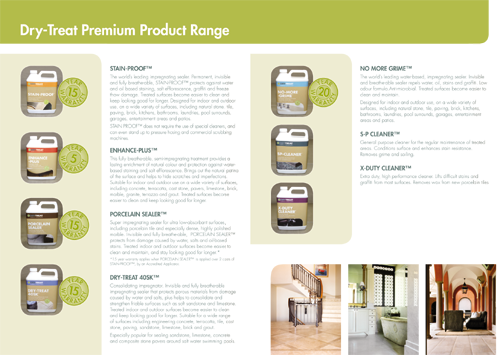 Dry-Treat's impregnating sealers are technologically different from commonly available silicone, teflon and siloxane impregnators. Their specially engineered molecules penetrate deeper into porous materials and bond permanently inside the pores, without blocking them. This creates a deep barrier of protection within the tiles, paving, natural stone etc, which not only protects against staining, but against other serious damage, such as salt efflorescence. Dry-Treat impregnating sealers stand up to cleaning chemicals, traffic, sunlight, and even commercial cleaning techniques such as high pressure hosing.

They back their technology with written performance warranties of up to 20 years, when the sealers are applied by a Dry-Treat Accredited Applicator- which is a title that Tri-Stone proudly holds.
All Dry-Treat Products Available Here
Premium Sealing Products
Meta Creme™
Stain-Proof Original™ - Protects from water, salt attack, and oil staining.
Stain-Proof Plus™
Intensifia™
Dry-Treat 40SK™ - Protects brick and limestone from water and salt, plus surface consolidation.
Vitremela™ - Excellent sealer for marble.
Enhance-Plus™ - Used for color enrichment, gives stone a wet look.
Stone Cleaning Products
Hanafinn Oxy-Klenza™
Hanafinn Sola-Kleena™
Hanafinn Skavenja™
Hanafinn Rejuvenata™
Hanafinn Rejuvenata Active™
Specialty Products
Dry-Treat Sola-Klear™
Hanafinn Ole-Repella™
Concreme™
Dry-Treat 100N™ - Protects engineering concrete from water ingress, salt attack, alkali silicia reaction.
Senguard™
---
Kitchen and Bath Fixtures
Need fixtures? Find high quality products here, competitively priced to the big box stores. Let Tri-Stone be your one-stop shop.
Brands Available
Austra - Handmade Bamboo Sinks
Brizo - Faucets, 11 different finishes and SmartTouch Technology available
Delta - Faucets, 7 different finishes
Fortis - "Puro Design Italiano"
Grohe - Faucets, Chrome, Bronze, and SuperSteel
Kohler - Cast Iron and Porcelain Sinks, toilets, faucets
Lexicon - Quartz Composite Sinks, limited lifetime warranty
Moen - Faucets, 7 different finishes
Karren Edge - Acrylic Sinks, 50-year limited warranty
Omni - Stainless Steel Sinks, limited lifetime warranty
Pfister - Faucets, 9 different finishes, Never Leak Guarantee and Warranty
Pure - Porcelain sinks, drop-in and vessel
Santa Fe - Copper and Glass Vessel Sinks
Stratus - Stainless steel sinks, limited lifetime warranty
Zero Edge - Stainless steel sinks, limited lifetime warranty
And more! Just ask.