Why Choose Us?
We are a small business, with Tim (the owner) carefully overseeing the completion of your product from drawings to delivery. Every piece that leaves Tri-Stone, has been hand-finished, and inspected by Tim. This ensures high quality, personal care, and a hassle-free experience.
For the masons who are anxious to get to work, we give prompt and thorough quotes, as well as short and reliable lead times. Tim was a mason for years, so he understands what needs to be done to make it a very pleasant experience.
How We Look On Paper.

• Tim had his start in the family masonry business as a teenager. He has many years of practical experience in Masonry Installation & Detailing.
• Tim also has attended many classes, seminars, and workshops. Tri-Stone meets IDOT standards. Additionally, Tri-Stone has received certificates because of its environment-friendly efforts. Here are a few of our certificates: ACI Certificate, IDOT Certificate, Waste Reduction Sustainibility, Isokern Modular Fireplaces, World of Concrete.
Testimonials
"Tim provides customers with custom cast stone for renovations and new construction where detail is critical. Tim's artistry is present on every job. Contact Tim for your small or large project." --Bob Gerlach
"Tri-Stone takes great pride in their work, and uses top quality materials to make some of the best cast stone products around. Very detail oriented, and great at matching color and texture."--Mike Klimes
"We live in an older home, built in 1924. On the front masonry porch stand three unique stone planters, which we believe are original to the house.
"One summer, there was a bad storm in northern Illinois & the wind tore off a very large tree branch. The branch took off part of our chimney, and also destroyed one of the three stone planters on the front porch. Our family has lived at the property since 1964, and we were quite saddened by the loss.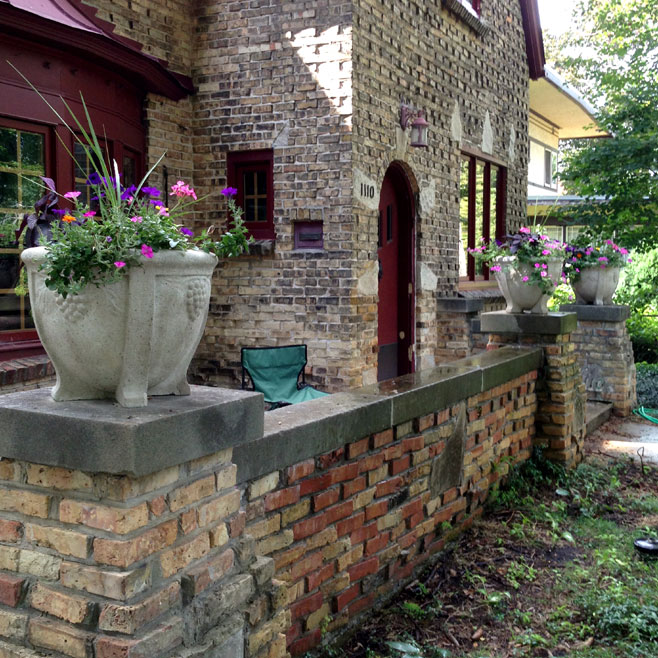 The insurance adjustor recommended we buy three new planters. What other choice was there? We'd never find a match.
"I did some Googling and ran across the Tri-Stone web site. I emailed Tim on the off-chance something could be done. He said he could help us, and proceeded to explain some options. We could bring up the broken planter pieces & see about a repair. Or, we could bring up one of the original intact planters and have a new one cast, and then antiqued to match the others.
"I didn't even know this was possible! We couldn't be more pleased with the result. You'd have to get close and scrutinize the planters to know which two are the originals and which one is newly cast. Amazing!"--Michelle C.

Contact Information

Physical & Mailing Address: 265 Wild Rose Road, Genoa City, WI 53128
Phone: 262-279-6910
Fax: 262-279-6926
Email: info@tri-stone.net